Austin Seven Stamps
<![if !vml]>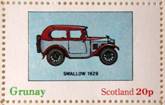 <![endif]> <![if !vml]>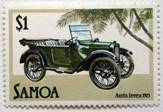 <![endif]> <![if !vml]>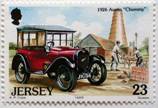 <![endif]> <![if !vml]>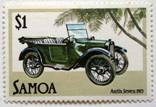 <![endif]> <![if !vml]>

<![endif]>
---
---
This page is reproduced from the superb web site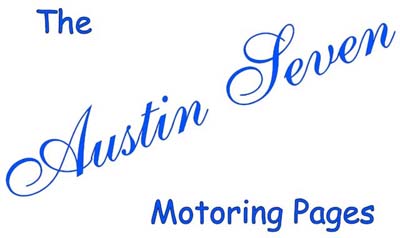 By Bruce White
<![if !vml]>

<![endif]> <![if !vml]>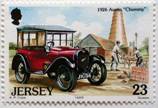 <![endif]> <![if !vml]>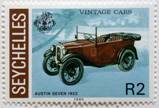 <![endif]> <![if !vml]>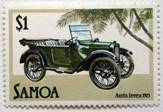 <![endif]> <![if !vml]>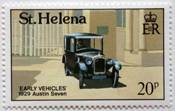 <![endif]>
<![if !vml]>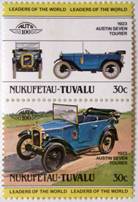 <![endif]>
The following is :-
Reproduced by courtesy of Bryan Norfolk and the Austin Seven Clubs' Association.
AUSTIN SEVEN STAMPS
<![if !vml]>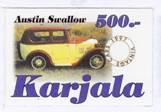 <![endif]>
My collection of stamps featuring the Austin Seven started in a very minor way in 1982 with the issue of the 'British Motor Cars' set of stamps. Knowing of my interest in all things related to the Seven, a friend sent me a small Manila envelope with the 15 1/2p stamp attached that features the A7 RK Saloon and the Metro. This envelope was carefully stored between the pages of 'Wyatt' for safe keeping and still remains in my collection today.
.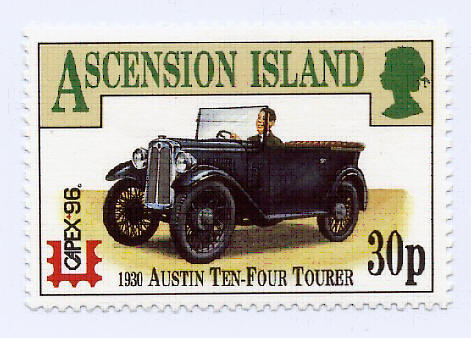 Nothing further happened until 1989 with the issue of the 'Source' book. On the back cover of this book is a picture of the Jersey stamp illustrating a 1926 A7 Chummy. I happened to see this stamp subsequently in a Charity shop and added it to my collection.
I owned my first Austin Seven between the years 1958 and 1965, when I was a student in London. However, my affection for the model continued and in 1996 I purchased my second A7, a 1930 RL Saloon. Following this I joined some Austin Seven Clubs and started to receive this Association magazine. Articles on Austin Seven stamps appeared in 1998A page 22, by Ron Burchett and 1998B page 32, by David Lucas.
My third stamp, from Cuba, was purchased from a Car Boot stall in Cyprus, when visiting my sister on holiday.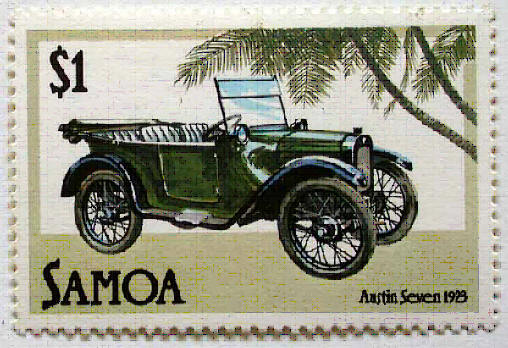 I then gained access to the internet and discovered the Australian Web site 'Motoring Pages, then run by Bruce White. This site contains details of several Austin Seven stamps. The two A7CA magazine articles and the Web site information gave me inspiration to enlarge my own collection. Using the internet and the services of Google and Ebay, I have searched worldwide and increased my collection of Austin Seven related stamps to 24, with a couple more still under investigation.
A couple of years ago I decided to document my findings and I have produced a booklet containing details of the stamps as well as the stamp set and other details such as Souvenir Sheets, Maximum Cards, First Day Covers etc. Two example pages are shown.
In addition, I have produced an A4 size print illustrating 20 of the Austin Seven stamps.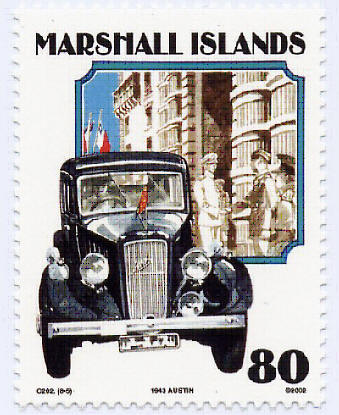 This is ready for insertion in a standard A4 size frame.
For anyone interested, I am able to supply copies of both items as
follows:-<![if !vml]>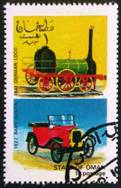 <![endif]>
AUSTIN SEVEN STAMP BOOKLET
£12.50 including postage and packing
AUSTIN SEVEN STAMP PRINT
£3.50 including postage and packing
My latest production, as a small personal contribution to the Centenary of the founding of the Austin Motor Company, is a booklet containing details of over 20 stamps featuring the AUSTIN MOTOR CAR.
AUSTIN STAMP BOOKLET
£11 including postage and packing
Bryan Norfolk
<![if !vml]>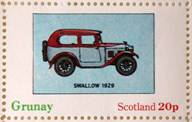 <![endif]> <![if !vml]>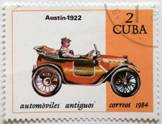 <![endif]> <![if !vml]>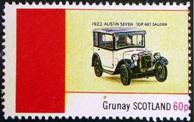 <![endif]> <![if !vml]>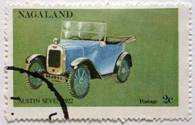 <![endif]><![if !vml]>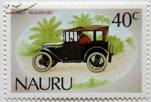 <![endif]><![if !vml]>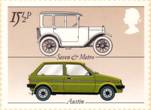 <![endif]><![if !vml]>

<![endif]><![if !vml]>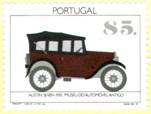 <![endif]><![if !vml]>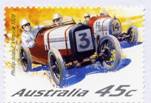 <![endif]>
<![if !vml]>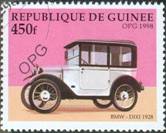 <![endif]> <![if !vml]>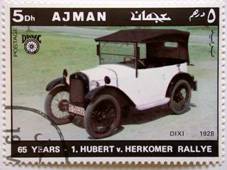 <![endif]> <![if !vml]>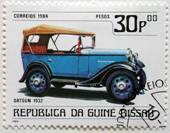 <![endif]>
<![if !vml]>

<![endif]>