My A7s since 1957 by geoff holland obe
Looking through the recent list of club owned A7s, it struck me that very few appear to be still owned by my generation of penurious students and others who, in the late 1950s, bought them as extremely cheap, practical and fairly reliable transportation.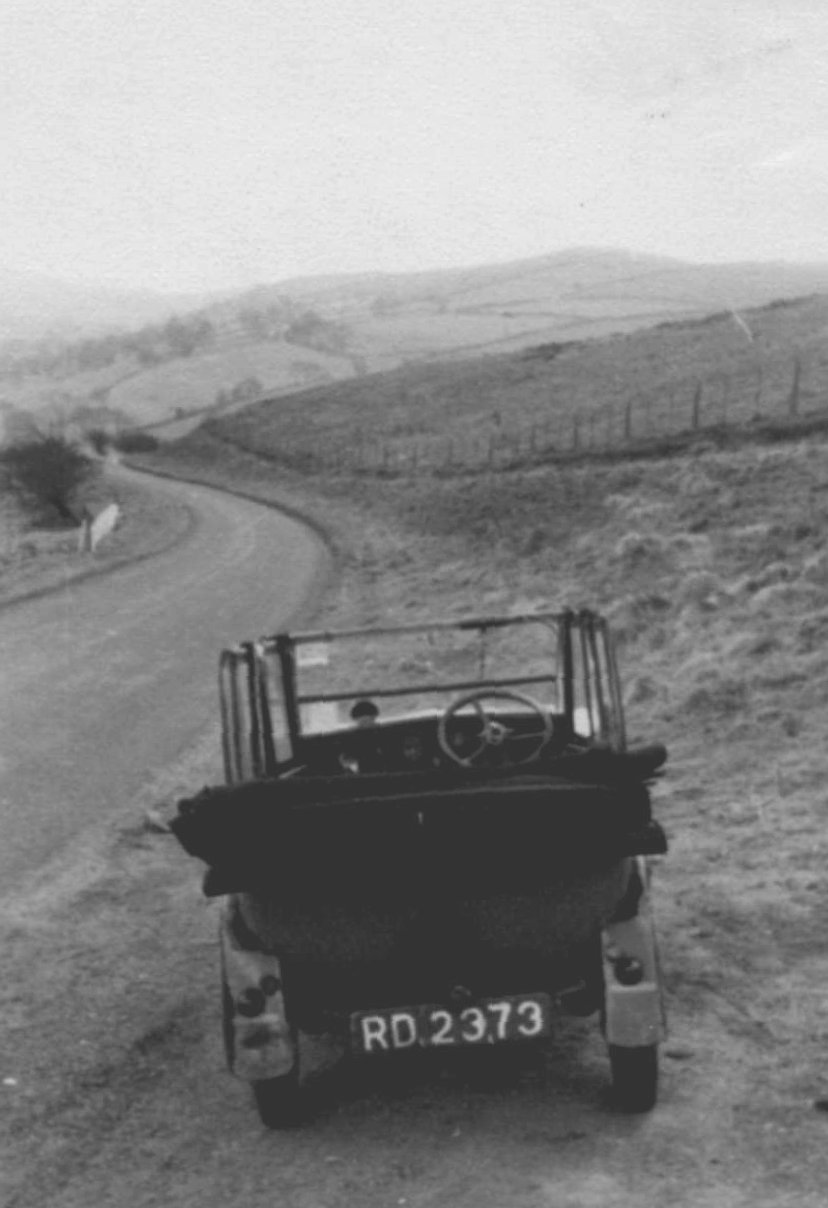 It was well known at the time that if you decided at the beginning to stick with one make of cheap car, the favourites being Morris 8s, Ford 8 Y types and especially A7s, a student on a grant could easily keep mobile. As each one died the best parts could be passed on to its successor. Maybe most of us preferred to forget these at the time unloveable, uncomfortable and sometimes absurd motorcars as soon as possible. It certainly seems that very few of us actually hung on to their student wheels. I have, so far for 42 years.
A vacation job in 1957, cleaning farm machinery overnight, provided the £25 for my first car, a disreputable 1937 Ruby with a replacement 2-bearing engine. Although I'd survived a few years of motorcycling, I had never driven a car before. I took advantage of a short-lived dispensation allowing learners to drive without a qualified driver. This was a hangover from the 1956 Suez crisis. Collecting the Ruby from the previous owner, a factory boiler man, I mastered the gears and steering between Liverpool and Warrington, the brakes such as they were by Altringham and felt in complete control by the time I reached my parents' home in Cheshire. My mother, profoundly relieved it was not another big and dangerous motorbike, rose to the occasion by saying it was `quite modern', before realising that I had driven it alone from Liverpool. The following day, fired with enthusiasm, I set off for London, arriving within 10 hours in what seemed to be great comfort, compared with my motorbikes. A week of frenzied driving around the Smoke ended with a sheared half-shaft Woodruff key, outside the Victoria and Albert Museum. Ignoring the attendant who suggested I should take it inside, I found a garage within pushing distance, in South Kensington, who fixed it by the next day for £5. Thus I learned the purpose of the odd shaped object under the seat. It was a hub puller and ever afterwards I carried a spare key. I must have covered several thousand miles that summer, going up and down to London as well as to the Lakes and North Wales. A friend borrowed it and toured Scotland. Compared with motorbikes it was amazingly reliable.
Going back to University in October, I had just collected my grant cheque and was walking down Mount Pleasant in Liverpool to my bank when I saw a beautiful grey 1938 Open Road Tourer for sale at a very dodgy garage. I bought it on the spot for £30. The Ruby was relegated to a shed. This tourer, with its very quiet 3-bearing engine, was by comparison very fast and, at least from inside, felt very racy. Its silencer was completely shot but made a most rewarding noise. I was very soon in trouble with the law, caught chasing an M type MG on the 30mph dual carriageway to Garston. The police motorcyclist said he'd been parked 3 miles back and thought he'd heard an aeroplane- but it was me and it had taken him to here to catch me. I'll always remember his comment "Watch this dial, it doesn't tell you the time, but tells you how fast you are going". I could see the broken speedo cable dangling under the dash and I prayed he would not ask to see my (provisional) driving license. He let me off once I had promised to get a new silencer with the remark; "I'd have booked the MG if I could have caught him".
On the night of the Women Students' Hall of Residence Formal Ball the car disgraced itself. Arriving that afternoon back at our student house it subsided. One rear wheel together with the hub and end of the axle case had fallen off. Undaunted, the Ruby was turned on its side and the whole back axle removed, to replace the broken one in the Tourer. Then on with a borrowed dinner jacket and off to the Ball, even though my hands had to be kept in pockets all evening to hide the black grease. The 1938 Tourer was a splendid car, easily capable of 55mph and well able to keep up with the traffic of the time. Its very worn brakes were its Achilles heel. The following summer of 1958 I worked for 6 months in Central London, living in various flats in Hampstead. The car had taken me south again so I drove it to work and used to park all day outside the office in Harley Street. One Sunday, returning up the Kingston Bypass from a day out in Portsmouth, the brake cams turned so far that after each application they had to be hammered off. I got home eventually and, having very little money, considered what to do. That night the car was stolen. Not surprisingly the thieves turned it over three times trying to turn at speed into Regents Park at the bottom of Avenue Road. I imagine it taught them something about driving A7s. The car was burnt out. I only had 3rd party insurance so that was that. But I did salvage the 6v Klaxon horn, bought on one of my many visits to the legendary Arthur Puddifer's breakers yard in Bootle. It has gone into every A7 I've owned since.
Fortunately, a week or so earlier a decrepit 1931 Type AF tourer had been spotted sitting forlornly in the street outside a Hampstead garage. After prolonged negotiations, as I was only earning £9 a week, I persuaded the garage owner to part with it for £12, with a new battery thrown in. It had returned from a tour of Scandinavia by a retired lady teacher some 3 years earlier and had not turned a wheel since. RD 2373 was not a pretty sight, dirty, neglected and full of rubbish. The engine also looked odd. It turned out to be a converted magneto unit, originally intended for marine use and dating from 1926. After a couple of hours it was running, in a cloud of blue smoke and sounding like a bag of nails. I was returning home within days to go back to university so it had to suffice. Leaving at 6.30am one misty September morning, I had a slow but very memorable journey to Manchester, arriving around 8pm. This was enlivened by being interviewed in the Potteries as part of an origin and destination survey. The surveyor seemed to think my replies were a wind-up.
Once home, some nifty engineering quickly installed the engine from the deceased Ruby, plus its 4-speed late type gearbox and shortened Hardy Spicer drive shaft. Together with a Super Accessories banana exhaust manifold and SU carburetor from a crashed Jag, performance was transformed. Rusty spokes meant that the wheels and better tyres from the Ruby were also transferred. The aluminum body was also repainted a somewhat tasteless bright red. Although this sort of behavior may be considered sacrilegious today, at the time such cars were purely transport and we considered it right to use any better and later bits that we could get to fit. At heart I probably still believe this to be a healthy attitude.
I belatedly took the driving test and passed first time, once I had convinced the examiner that it was the brakes, not my reactions, that were at fault. In any case he was in a hurry. It was February in a snowy northern town and the hood was down for improved rear visibility. Over the next four years RD 2373 provided reliable cheap transport. During this time I qualified as an architect and for several years used the car to visit projects and sites all over Merseyside, Cheshire and even as far as West Yorkshire. As the architect is the supposed head of the construction team, the A7 caused much amusement amongst the lesser mortals such as builders, engineers and quantity surveyors, who would boringly arrive in Mark II Jags, Mercedes and Ford Zephyrs.
A broken crankshaft, the result of over enthusiastic use of the ignition advance lever to boost performance, eventually meant that an emergency replacement car was needed. A little garage in Edge Hill who were due to install a replacement crankshaft dug up in a certain front garden well known to Liverpool A7 enthusiasts at the time, provided me with a running but extremely tatty 1934 Ruby for £4. At about the same time I was given an almost derelict 1931 Box which seemed to have previously housed chickens. To my astonishment it started and ran well. These cars kept me going until the return of RD 2373 several weeks later at a cost of £29 for repairs. This engine overhaul was good value, serving until 1995. The 1934 Ruby had by now died but the running Box saloon was passed on free to a flatmate.
(
to be continued
) >>
Part 2 my_a7_p2.htm