††† †††††††††††††††††††††††††††††† MY FATHERíS† FIRST† CAR.
It all started in 1943. †I was 6 at the time and I remember it like it was yesterday. †My Father was a skilled trades Plumber.† He was age 39 with 3 children so he was not called up. He was in the A.R.P. and after working his regular job, he would go the 30 miles up to London every night to help with bomb damage. †He had a motorcycle at that time but it was not much good for carrying tools and repair parts. †An Uncle of mine was called up and had a 1929 Austin 7 Top Hat.† He made a deal with my father for him to buy the Austin 7.† I remember my Dad coming home from work at on Saturday and saying after lunch we are going to get the car. †I was so excited I could hardly eat lunch.† We walked about 2 miles to my Uncleís house, we spent the entire afternoon trying to start it with no luck, I was so disappointed. †Finally he did get it home and any chance I got, I would go out with him driving.
<![if !vml]>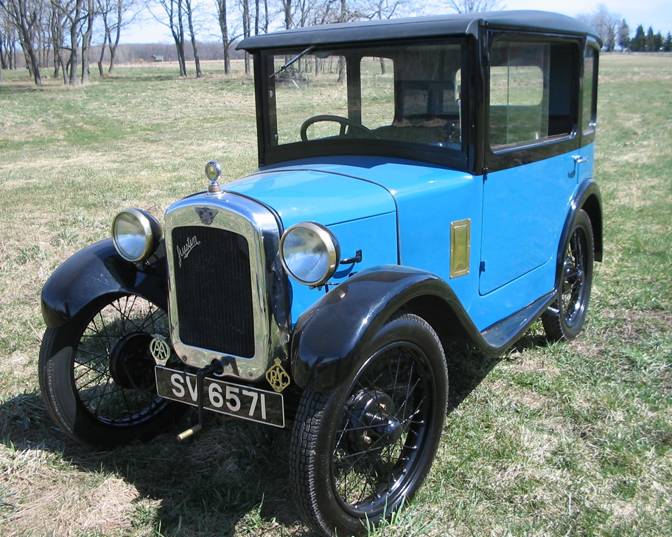 <![endif]>
There were a couple of times that I remember him re-building the engine.† He had galvanized buckets full of pistons, rods and other engine parts. †He would simply just try each part one at a time to find one that fitted the best. †I donít think I ever remember him measuring anything.† I remember he used a lot of oil, it seemed every time we went out he would be putting more in. †He used to buy it in green 5 gall drums.† Iím not sure what is was or where it even came from.
After the war, petrol was still in short supply, but every Sunday afternoon we would take the tools out of the car and put the back seat back in to go for a ride in the countryside. †We lived in Bracknell, Berkshire, and would go to Henley on Thames, which was about 15 miles away. †We would always stop at Tyford to watch the Express Steam train that went from London to Wales run through.† Other times we would stop by some woods that we could explore.
Sometimes we would go down to Southsea and Portsmouth where my parents had friends. †There was a very steep hill near Petersfield about ĺ of the way down.† By the time we got to the top we would be boiling like crazy. †It was no mistake that there was a Pub at the top of the hill.† That Pub was always filled with vehicles with their bonnets up replenishing the radiators with water, and the men with beer.
There was a steep hill near our home.† Going over it would save about 3 miles to the next town but it was always a challenge.† We would approach the road from a tee junction at the bottom of the hill. †Instead of turning to go up the hill my father would have to turn the opposite way and go down the road a ľ mile, turn around and go like hell to try to get a good run at the hill.† Most of the time we would make it, but if it was raining it would be a delicate balance between the throttle and wiper, with the foot to the floor there was no vacuum to operate the wiper and we could barely make it in first gear.
After WWII people wanted to get into car racing and most had little money to spare. The little Austin 7 was economically the best choice. †One Sunday Dad said we are going down to the Splashes where they were having some Time Trials. †We all loaded into our Austin 7, and came to where the event was being held. †An official waved us in and my father followed his directions, and before we knew it, we were heading down stream to the next splash. †As you can guess the official thought we were one of the competitors. †Before we knew it we had water running in one side and out of the other, and a dead car stuck in the stream. The thing that sticks in my mind is the official carrying my mother to the bank. †My bothers and I thought it was quite exciting to be in the competition. †It took most of the afternoon before we got it out and going again.
It was not long before our family out grew the little Austin, and petrol became more plentiful. †So my father brought an Austin 12 Tourer. †It seemed so big after the 7. †Us kids named it the flying greenhouse, it never did seem to have the magic that the 7 held.† Unfortunately we have no pictures of Dad with his Austin 7.
While in my late teens my first car was an Austin 7 Special,
<![if !vml]>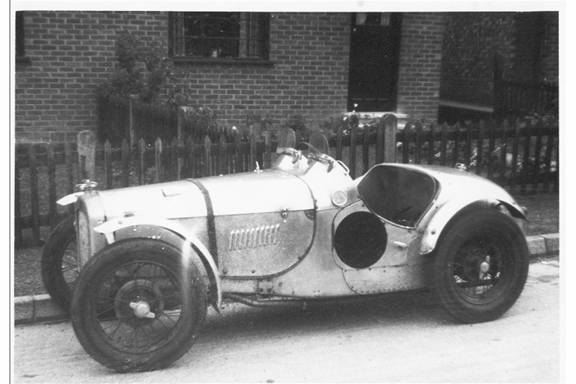 <![endif]>
which I remember trading in my HRD Vincent Rapide motorcycle for it. †I Wish I had that motorcycle now!
My wife and I have lived in the USA since the late 60ís, and on trips back to the UK for visiting family and holidays, we would visit Steam and Car Shows that were on. †At one Show about 10 years ago I saw an Austin 7 identical to what my father had owned. †Seeing that car brought back the memories and about how nice it would be to own one. †Since retiring 5 years ago, I found an Austin the same year and model as Dads, and had it shipped over here. †Two years ago I started restoring it and have now just finished. †It is a clone to my fathers. †We have called it ĎAlfieí after him. †Since I live in the USA I found it hard to look for spare parts had to make some parts myself. †Most of the wood was rotten in the frame and I ended up making about 75% of it new. †While looking for parts for this Austin just recently I saw a 1927Austin Chummy for sale.
<![if !vml]>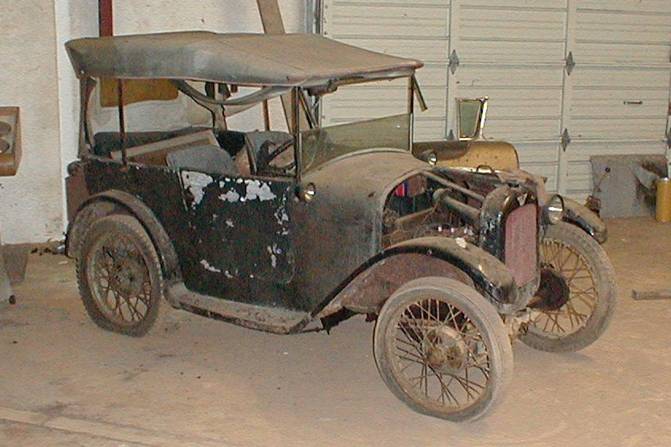 <![endif]>
†It had been rotting away in a barn in Georgia, USA.† It had been brought over in 1963 to be restored but nothing had been done. †I could not resist it and brought it, now thatís the next project.
<![if !vml]>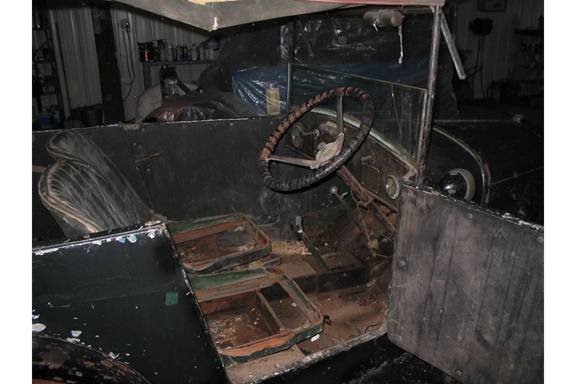 <![endif]>
<![if !vml]>

<![endif]><![if !vml]>

<![endif]>