BMC77
[Taken from a letter from Tony Eldridge, Memb.1874, of Ilford]
..... This car has been mine for the last 37 years and was totally restored from being a typical heap of the period (initial cost to me 11/9d) in 1964/6.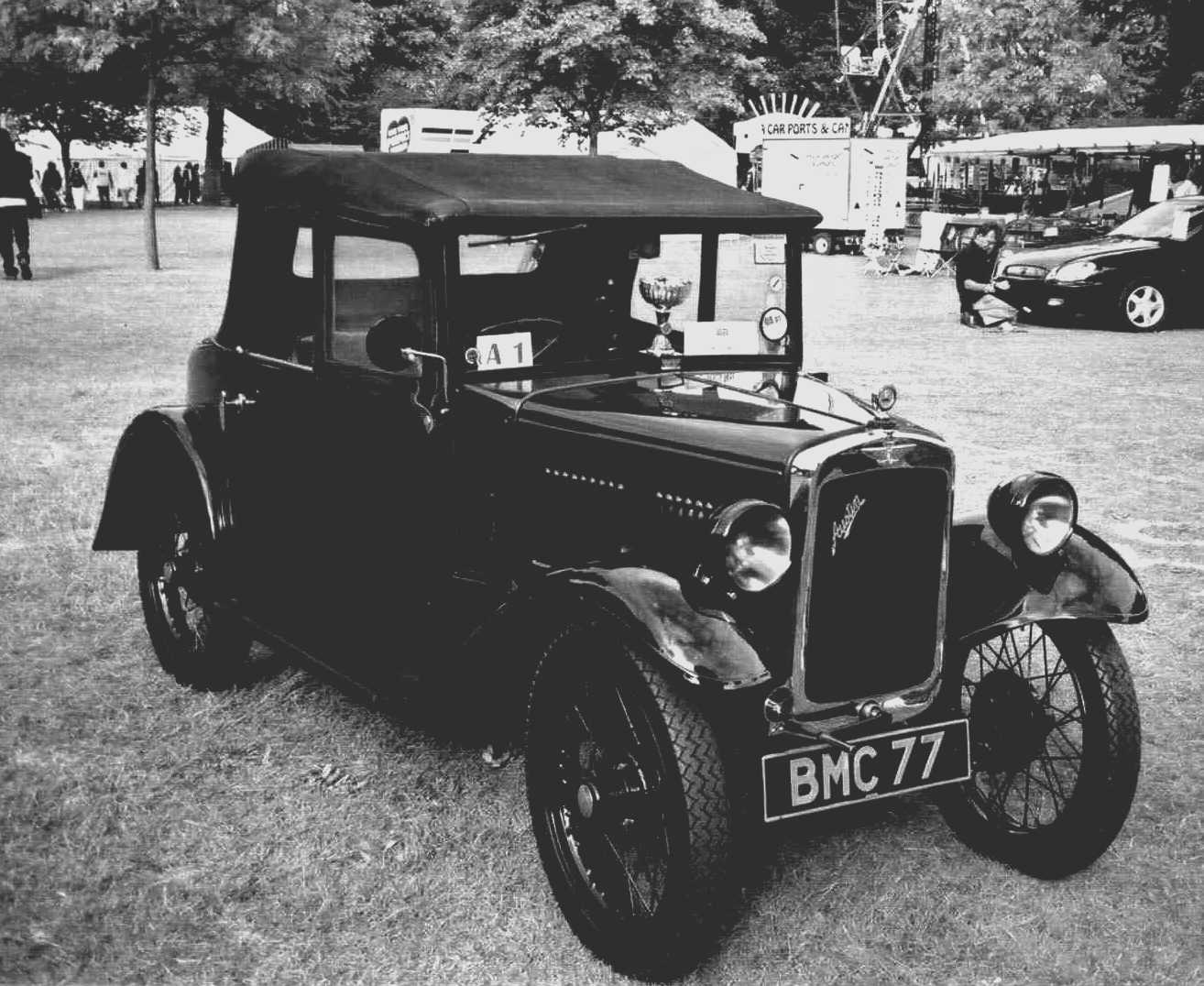 It received the present paint job in 1969 but now needs some refurbishment in this respect due to lifting paint and cracking here and there. This will be done after it has had the windscreen frame re-chromed and the wheels powder coated (this winter's projects). The tyres may have another 30 years life in the treads but the walls are cracking now, so I have a new set of Avon Sidecar covers waiting to go on the wheels after refurbishment. Thanks to buying and reading the Rinsey Mills book on originality and the Bryan Purves book on specifications, I have been spurred on to improve my car beyond the standard of detailing that satisfied me in 1966. Now it seems to be a slightly different car like having a drop of new wine in an old bottle - or something! I recently readjusted the ignition timing (retarded it) and now find that the engine runs better than it ever did and without an odd rattle that never seemed to sound like trouble but was irritating when it occurred. It only took me about 20 years to get round to doing that little job! The car is not exactly as it was when it left Longbridge but it was originally restored to use in an era when no one lost sleep over Austin Seven originality. However, it transpires that because it was always a green and black vehicle with green interior (a lighter shade than the present Connaught green) it would have been supplied to special order. I have been in touch with the owner of a 1934 Austin 10 registered BMC79 who tells me that his car has a special order interior and a suppliers plate from "Drays of Middlesex". We think that both cars may have come from the same supplier but I can't find Drays as a listed Austin dealer. What I did come across was an advert in The Autocar for 26 July 1935 placed by Broadway Motors of Hounslow who were offering a 1934 Seven Two Seater in Green and Black, 6000 miles and no scratches, for 69 guineas. It left me wondering if it was for my car - or perhaps there were other green and black PD's on the roads of Middlesex in 1935 with Middlesex registrations.
Finally, the pictures were taken at a local Town Show car display and the car won the cup seen on the scuttle for being the best pre war vehicle there and I received a very useful golfing umbrella as well. Hope you find this of interest.