A HOLIDAY IN FRANCE
We met by the side of the road. I was on my way back from a local run to Land's End in my 1931 Box Saloon, 'Olive' (OV 2048). This run had been organised by Tony Barfield to help greet 'finishers' on the Lowestoft- Land's End 'side-to-side' and provide some extra marshalling help. The day was foul, permanent mizzle and major misfortune having attended one of our local entrants, Len Moyle, in the form of an extremely nasty accident on the Ilminster by-pass. He finished but was evidently far from well and it was generally a subdued bunch of Cornish Austin 7 drivers who were sitting glumly around at the signing-in spot. A break in the weather signalled the departure of those of us not marshalling and I set off for home.
A few miles, a very few miles, up the road Olive died, inexplicably and with no warning. After a few obvious checks, I decided that a warm cosy garage would be a better place to carry on searching for the problem and suggested that my passenger should call the R.A.C. on his mobile phone. The R.A.C. man was just starting his inspection when a yellow Chummy (GH 8311) pulled in. Dave Simpson, the Chummy driver, was on his way to visit friends having successfully completed the 'Side-to-Side' and offered assistance. For a little while he and the R.A.C. representative got in one another's way, whilst my passenger and I watched. The problem: a stripped distributor drive gear. The solution, R.A.C. style, was for a tow truck home but the real solution: a spare drive gear that Dave just happened to be carrying. O.K., who would normally carry one? Even on a long-distance trip? Only those of us who have had difficulties I would suggest! Promising faithfully to return the gear the next day to Dave's friends, I went on home, Dave departed to his friends, Nick and Rose Morgan, and the R.A.C. man also went back to his base.
Returning the gear led to the usual type of Austin 7 chat and the discussion of continental trips and the JOGLE. I was keen to do both and deplored my lack of volunteer navigators/co-drivers, so Dave left me his phone number and suggested that I could consider him if I couldn't find anyone else.
Time passed and I found a co-driver for the JOGLE but contacted Dave to ask if he was doing the run himself. We chatted and planned a motoring trip to Northern France, discovering we both had an interest in the First World War and a taste for champagne. The latter came after the JOGLE when I rang him after I had celebrated my finish by downing a bottle! I probably was more than slightly inebriated at the time!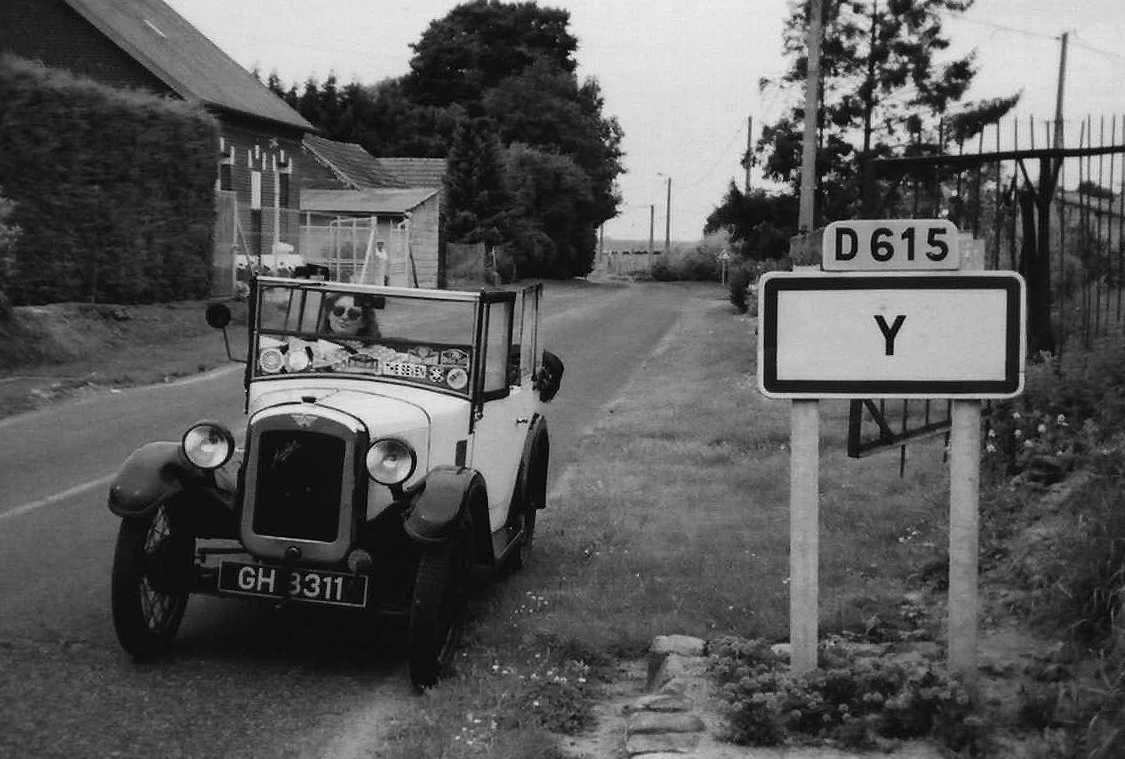 August found us setting off in Dave's Chummy for a week of touring in France. Two days before we departed, the engine was on the kitchen table as the clutch toggle levers were being repaired and the thrust bearing being replaced given that part of the outer cage had broken off. The usual 7 race against time..... The mileage being recorded at this point as 7777.7 we took to be a clear good luck sign. We took the Eurostar train service through the tunnel, missing our original train as the security check took so long. I suspect the officers just wanted an excuse to have a thorough look at the Chummy. We caught the next train and were whisked to France, causing great interest to a Japanese tourist. Route planning had us aiming straight for the Champagne area, which as perhaps a two-day drive, accommodation to be found en route. Although mid-August is peak season, there does not seem to be quite such extreme pressure on accommodation as there is in England. That said, it was two rather weary and grumpy travellers who ended up in a travel lodge that evening. My attempts to learn to drive on the Chummy hadn't gone very well and I was conscious that I was abusing both the car and the rare privilege of being allowed to drive it! My double-declutching is still somewhat unreliable and on Olive, I only use it when changing down and not up and so remembering to do so both ways was causing me much concentration and not a little swearing. The day had also included some drizzle and we were worried about the weather prospects for our week. Hood up is nowhere near as much fun as hood down.
The next day dawned bright and sunny and indeed the rest of our stay was in fabulous weather. In fact, if it hadn't been for the breeze created by driving, I would have found the temperatures in the eighties too high. We negotiated our night's accommodation in advance down in Champagne and could look forward to a scenic day's motoring around part of the 'Route Touristique de Champagne'.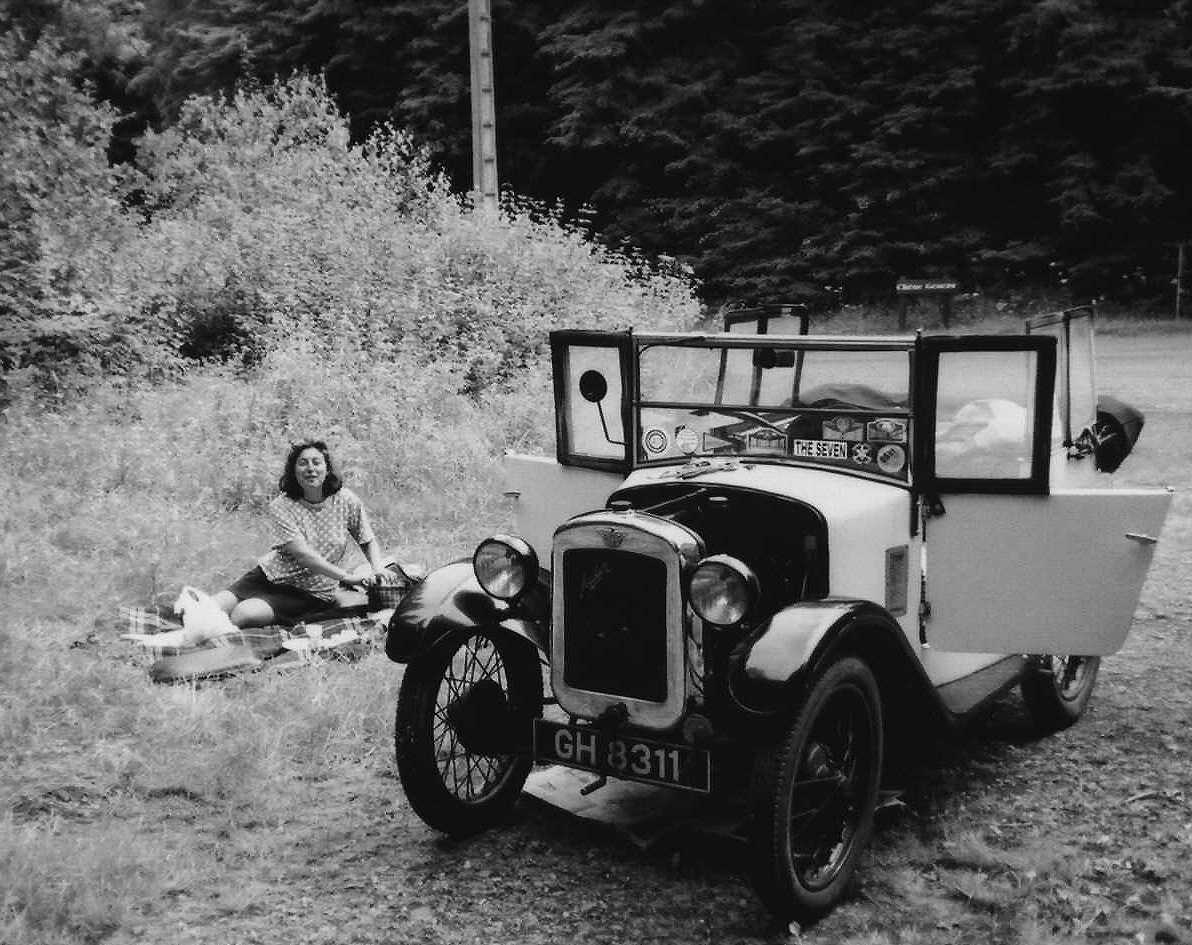 A stroll around Peronne town centre took in a trip to supermarket and patisserie to buy our picnic lunch and we set off through the idyllic countryside. An early stop took in Coucy-le-Chateau, a 13th Century fortified town perched on a hillside with superb views of the surrounding land. Later we passed field after field of precision planted vines, ending up in the attractive hamlet of Baulne-en-Brie. Encountering a local, he proceeded to have an in-depth discussion with Dave about fishing in the local river. Well, I think that was what was being discussed as the local's accent made following his French quite a challenge and he spoke no English. Actions seemed to speak louder than words, although I still wonder what the fate of the already-bolted lettuces in his wheelbarrow was to be.
No trip to Champagne could be complete without a visit to a 'cave' or champagne cellar and so the following day we planned a route around the Marne valley looking for a 'maison de champagne' to visit. Dominating the valley, above Chateau Thierry is a huge monument which we felt we must visit; if at first, only to discover exactly what it was.
It turned out to be an American monument to their soldiers who fell in battles around the Marne in WWI and close by was their graveyard. I hadn't appreciated that the white slabs we see for wartime graves were unique to the British. The Americans have white crosses (or Stars of David), the French beige crosses and the Germans iron crosses.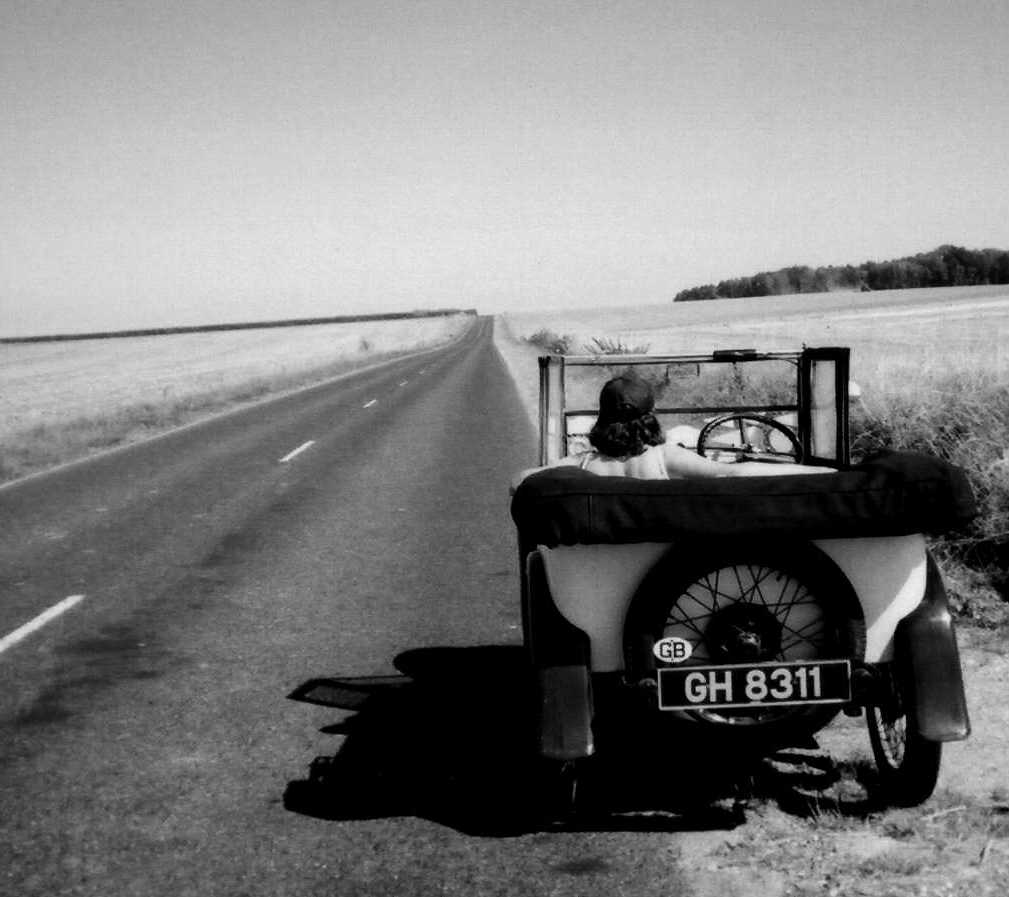 Every road seems to have its roadside WWI graveyard and so we walked around several whilst we were touring. Indeed we picnicked outside a couple, which seemed almost sacrilegious at first but probably would have been approved of by the soldiers who were fighting to maintain such a way of life. Close to the American memorial and graveyard was the scene of the biggest battle on the Marne with a smaller memorial and guns. The Chummy eased into a space between two field guns and proved an additional tourist attraction.